Voice & Diction Training and Accent Reduction Overview
A beautiful speaking voice enhances your ability to communicate with and influence others. Other people make unconscious decisions about whether to trust you based on your tone of voice and your pronunciation. So, learning to have a beautiful voice and speaking with good diction will positively impact your credibility.
Master Voice Teacher, Sandra Zimmer, guides you through vocal training that amplifies your confidence. Don't envy a great voice, have one! Let Sandra show you how.
Self Expression Center provides a variety of Voice and Accent Reduction training including:
Speaking Voice Training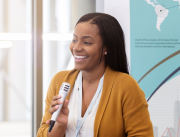 A rich, resonant voice tone compels others to respond positively. But unpleasant voice qualities such as nasality, throatiness or shrillness can cause listeners to disregard your message. Sandra Zimmer teaches you to develop a strong speaking voice with a rich, resonant voice tone in order to command attention and increase your presence.
More on Speaking Voice Training.
Diction & Pronunciation Training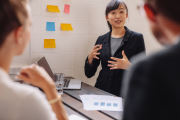 Good diction (proper pronunciation of the consonant sounds of English) allows others to understand you clearly. Poor diction, known as mumbling, diminishes your impact on listeners. Proper pronunciation of American vowel sounds allows for a more standard American accent. Sandra teaches you to pronounce the sounds of English so that your speech is clear and easy to understand.
More on Diction Training.
Accent Reduction Programs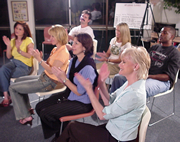 A heavy accent can diminish the credibility of global professionals who are in roles that require speaking English for business. Heavy accents interfere with their ability to be clearly understood when communicating crucial information, even when they have a strong grasp of English grammar. Sandra teaches you to correctly pronounce the specific sounds of English that cause you to have a heavy accent so you can be more easily understood when you speak English.
More on Accent Reduction Programs.
Client Testimonials
"After just eight short lessons, my voice really does feel richer and much more modulated. Not only do I feel calmer when speaking – which has increased my overall confidence – but I've gained a much more comprehensive understanding of how the voice works as an instrument. I found it very heartening to hear your words of encouragement as I struggled to break bad habits and make sounds that – while they seemed very strange and difficult at first – proved to be much more resonant. It was very exciting to hear my voice change throughout the course."
"I am writing to tell you how grateful I am that I had the opportunity to work with you one-on-one for voice and interview coaching. You were able to target in on my problem areas right away and make corrections to some bad habits I developed. I was inspiring to hear improvement in my voice so early in the process! You equipped me with the tools I need to continue with work after our sessions ended."
"Just wanted to thank you for finding Sandra Zimmer and the Self-Expression Center. Sandra has been great and we addressed my "voice projection" issue pretty quick. We've even used some of the time to work on presentation construction and the elements of influencing. I'd highly recommend you file her name in a handy spot for others that need similar help."
Set Up a Complimentary Consultation With Sandra

If you think I might be the right coach for you, please schedule a free 20-minute coaching session.
Together we'll clarify your communication goals. I'll also answer your questions about my services and how I can help you.
Let's talk!
Request Free Consultation